Last week, I shared my thoughts on the rise of crime in our communities. It is abundantly clear that criminals are feeling more and more emboldened. By May of 2023, in Orange County alone over 140 arrests had been involving smash and grab and home invasion cases. Pro-criminal policies like Prop 47, Prop 57 and Assembly Bill 109 have essentially given most criminals "get out of jail free" cards and placed the rest of us at risk.
How Did Propositions 47 and 57 and AB 109 Make Us Less Safe?
IIn 2014, Prop 47 essentially eliminated punishment for multiple types of crimes by reclassifying certain theft and drug possession offenses from felonies to misdemeanors. This has ultimately legalized theft and open drug use in California. By the same token, Prop 57 and AB 109 allowed the early release of some of the most violent criminals in our state prisons back into our communities—often after serving only a small percentage of the years they were originally sentenced to. Proposition 57 also weakened essential protections for crime victims and the public, such as the Victims' Bill of Rights. Criminals are now back on the street recklessly committing crimes, all while knowing that big city, soft on crime prosecutors will never hold them accountable. The result of this crime spree? More people fearful for their lives, more devastated businesses forced to close their doors, and more victims of heartless crimes.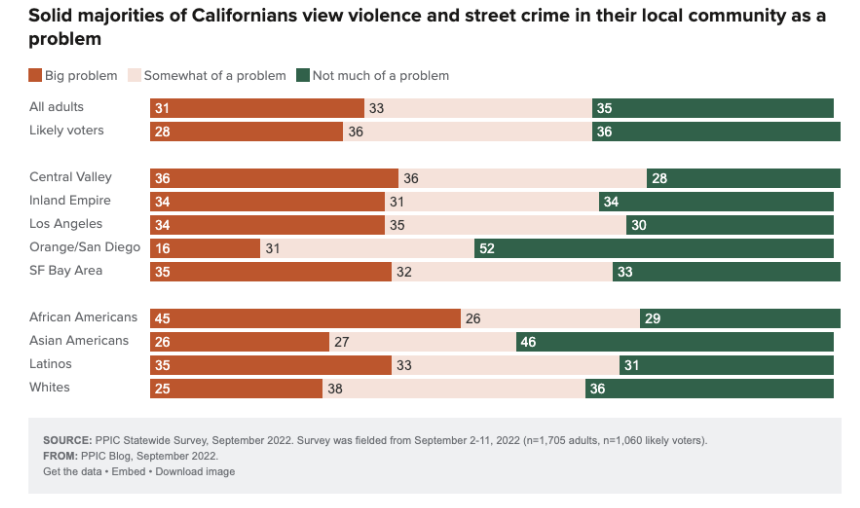 According to the latest Public Policy In California Poll, nearly two-in-three Californians believe violence and street crime in their local community are problems, and I agree with them. As your representative in Sacramento, my job isn't to complain about how bad things have gotten. My job is to roll up my sleeves and work hard to enact the meaningful change you want to see in our community. That's why I've tirelessly worked to introduce and pass AB 88, a bill that would restore crucial crime victims' rights to Californians. It's also why I've co-authored and pushed hard to have the Assembly pass SB 14, which would make sex trafficking of children a violent felony. Though this momentum is promising, there is still so much work to be done. I'm committed to working with any of my colleagues in Sacramento to reform our laws to hold criminals accountable and keep our communities safe.